THE CONFLUENCE STUDIOS AND GALLERIES: selected oil paintings from 2005 to 2007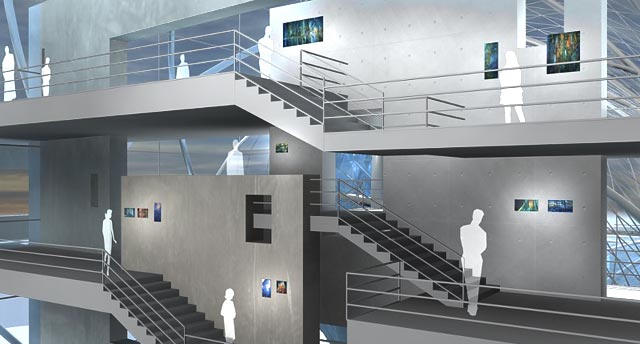 Interface: Please Click on paintings above to see larger scale reproductions.
Introduction: The Confluence houses selected oil paintings on panel and canvas, over half of which have alternate origins. The architectural interventions are adaptive reinterpretations on an existing warehouse. The studios and offices are housed behind the inserted gallery modules which also serve as vertical circulation. The top of the main display module is shown above. The rest of the planes display photographs of the stages of progress printed at real scale and mounted in the same fashion as the finished pieces. The three-dimensionally spiraled cladding is a surface based on a recursive circular surface. It is meant to foil and frame experiences inside of the complex.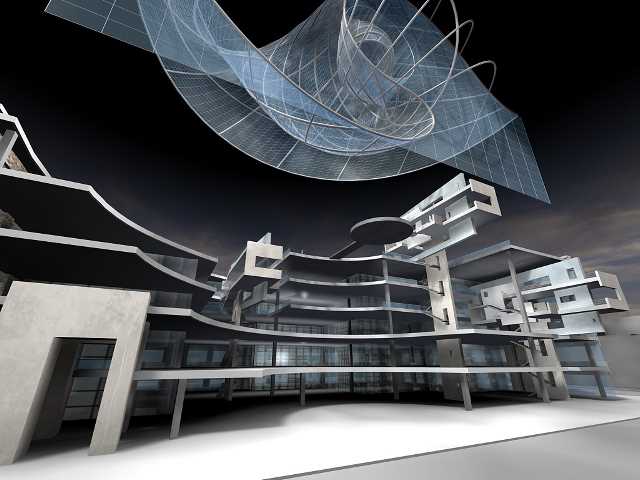 Above: Diagramatic Perspective showing inserted gallery modules with exterior skin floating above.
Views: Click here to see exterior and interior renderings of the project
Datum: Click here to see the recursive sacred geometry that frames the Adaptation
Datum: Click here to see a few process renderings of the top of the gallery inserts
Animation: Click here for a quick animation of the complex (8Mg WMV)
Interactive: Click here for the interactive 3d DWF (not available online at this time)